Jūrmala invites to feel the city rhythm with a special Spotify playlist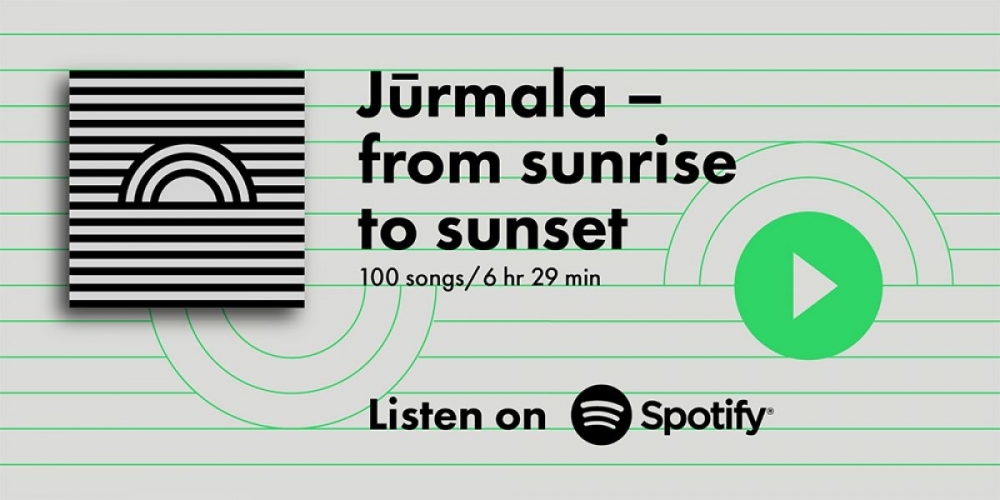 That moment when you have pressed Play, slide your phone into a warm coat pocket, and the speakers start playing great music. It seems as if Jūrmala was a film, and inspiration takes over you. Feel the atmosphere of the city anew!
Jūrmala has collaborated with the well-known Latvian DJ Toms Grēviņš to create a mood-setting playlist of 100 songs called "Jūrmala — from sunrise to sunset". The 6 hours and 29 minutes long playlist — basically a DJ set created especially for you — is an conveniently available on the music streaming service Spotify.
"When making this playlist dedicated to Jūrmala," Toms Grēviņš says, "I pictured a leisurely vacationer and music that accompanies them from sunrise until darkness of the night falls. Sometimes their choice of music is conscious but most often these are sounds they hear while passing by shops, beach bars, cafés."
Arctic Monkeys, Kings of Leon, The Cardigans, Nouvelle Vague, Morcheeba, Elton John, Nina Simone, Norah Jones, Gunārs Roze, Raimonds Pauls and many other outstanding performers jointly make a unique soundtrack for Jūrmala. The songs are lined up in a carefully set order. At first they give a feeling of waking up to sunshine, then call you to an active run along the seaside, with voices of seagulls resounding in your earphones. But maybe the scenario is completely different? Jim Noir "Tower of Love", Mungo Jerry "In the Summertime" seem to be pounding to the rhythm of a train. Maybe you should get on it?
The sunset and sunrise music becomes a mood-setting background for a day spent in Jūrmala. Enjoy the list of 100 songs however you want to — on your own, with someone else or in a cheerful company. Listen to the music while wearing earphones and walking through the historical wooden architecture routes, while picking mushrooms in the forest with your family and entrusting portable speakers to your children, while doing sports at the seaside with friends, or in romantic shared solitude with your loved one.

THE MOST IMPORTANT THINGS ABOUT YOUR HOLIDAYS IN JŪRMALA 2022
• Sea water temperature today »
• ​Things to do and see in Jūrmala »
• Take part in the summer contest »
• Book a visit to the viewing platform of Ķemeri Water Tower »
• Event calendar »
• Printable info materials »
• Current holiday offers »
• Buy an entry pass »
• Tourism Information Centre »
• Follow us on Facebook »
• Follow us on Instagram »