Weather and water temperature in Jūrmala
Up-to-date information on sea water temperature in Jūrmala! During the swimming season, the Jūrmala Lifeguard Service measures and updates the sea water temperature in Bulduri, Majori and Kauguri several times a day in this section. In addition, here you can find up-to-date information on upcoming weather conditions, as well as sunrise and sunset times for each day.
Data on the current sea water temperature are published several times a day: at 9.00, 11.00, 15.00 and 18.00.
Data entry may be delayed due to the workload of rescuers.
Weather conditions
25° .... 29°
0 mm
S 1.9 m/s
1020 hPa
04:32
22:23 26.June - 7.August
Dubulti Evangelical Lutheran Church
Baznīcas iela 13, Jūrmala, LV-2015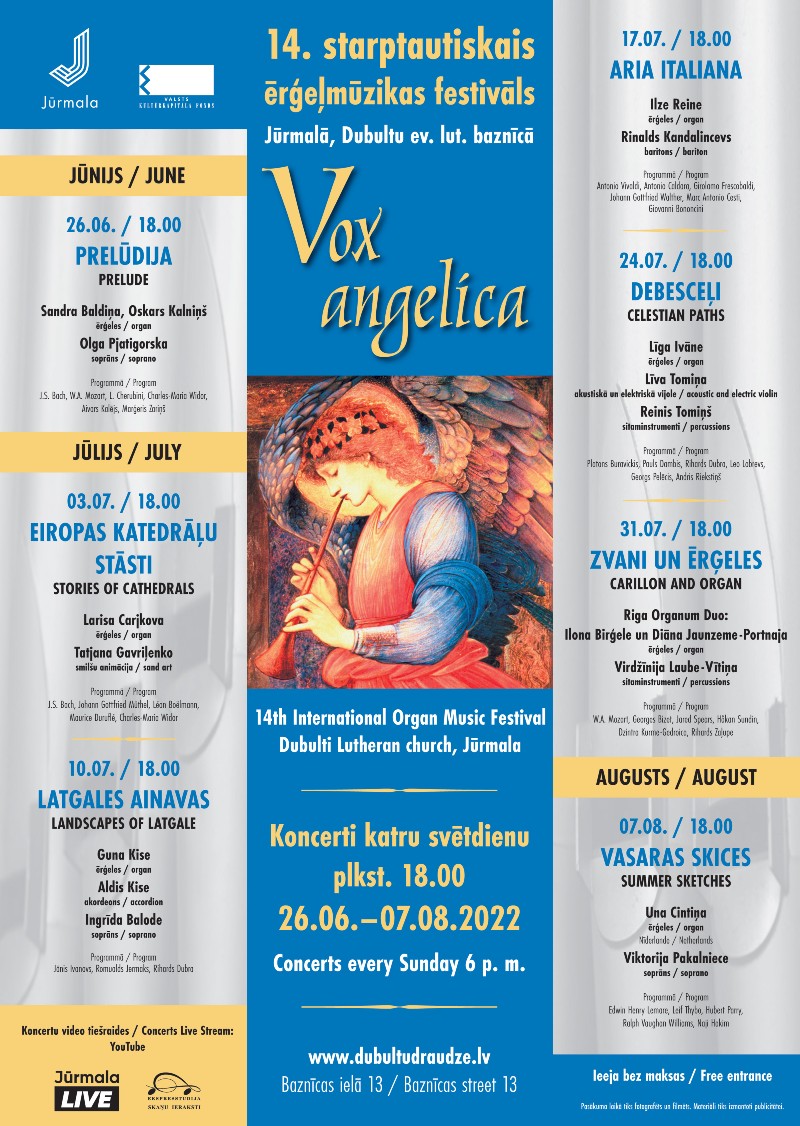 Tuesday, 28.June
The Dzintari Concert hall
Turaidas iela 1
https://www.dzintarukoncertzale.lv/events/view/3250
The Latvian Radio Big Band will perform with two outstanding, world-renowned jazz artists - the Portuguese singer Maria Mendes and the American pianist and composer John Beasley. The two artists have created a program inspired by fado music, which has delighted listeners, attracted the attention of music critics and won several prestigious awards. John Bisley's original compositions will be performed alongside it. Saturday, 2.July
Melluzi Open Air Stage Park
Mellužu prospektā 6
Contemporary dance concert, with the participation of BG dance studio, dance studio "Tēma" (leader Brigita Gulbe) and "Zumba with Ingus" (leader Ingus Stauģis)