Events Tuesday, 28.June
The Dzintari Concert hall
Turaidas iela 1
https://www.dzintarukoncertzale.lv/events/view/3250
The Latvian Radio Big Band will perform with two outstanding, world-renowned jazz artists - the Portuguese singer Maria Mendes and the American pianist and composer John Beasley. The two artists have created a program inspired by fado music, which has delighted listeners, attracted the attention of music critics and won several prestigious awards. John Bisley's original compositions will be performed alongside it.
Friday, 1.July
19:00 - 20:30 Friday, 1.July
Horn's Garden
Jomas iela 35
Summer concert in the Horn's Garden. "Always Green", music by Laimis Rācenājs (Soloist) and Aivars Hermanis (guitar).
Entrance free of charge. Saturday, 2.July
Beach of Majori
Majoru pludmalē
Saturday, 2.July
18:00 - 19:30 Saturday, 2.July
Melluzi Open Air Stage Park
Mellužu prospektā 6
Contemporary dance concert, with the participation of BG dance studio, dance studio "Tēma" (leader Brigita Gulbe) and "Zumba with Ingus" (leader Ingus Stauģis) 9.July - 14.July
SemaraH Hotel Lielupe Spa & Conferences
Bulduru prospekts 64/68, Bulduri 19.May - 28.June
House of Aspazija
Z.Meierovica prosp. 18/20, Dubulti 23.May - 3.July
Jūrmala museum
Tirgoņu iela 29, Majori 23.May - 3.July
Jūrmala museum
Tirgoņu iela 29, Majori 23.May - 3.July
Jūrmala museum 26.June - 7.August
Dubulti Evangelical Lutheran Church
Baznīcas iela 13, Jūrmala, LV-2015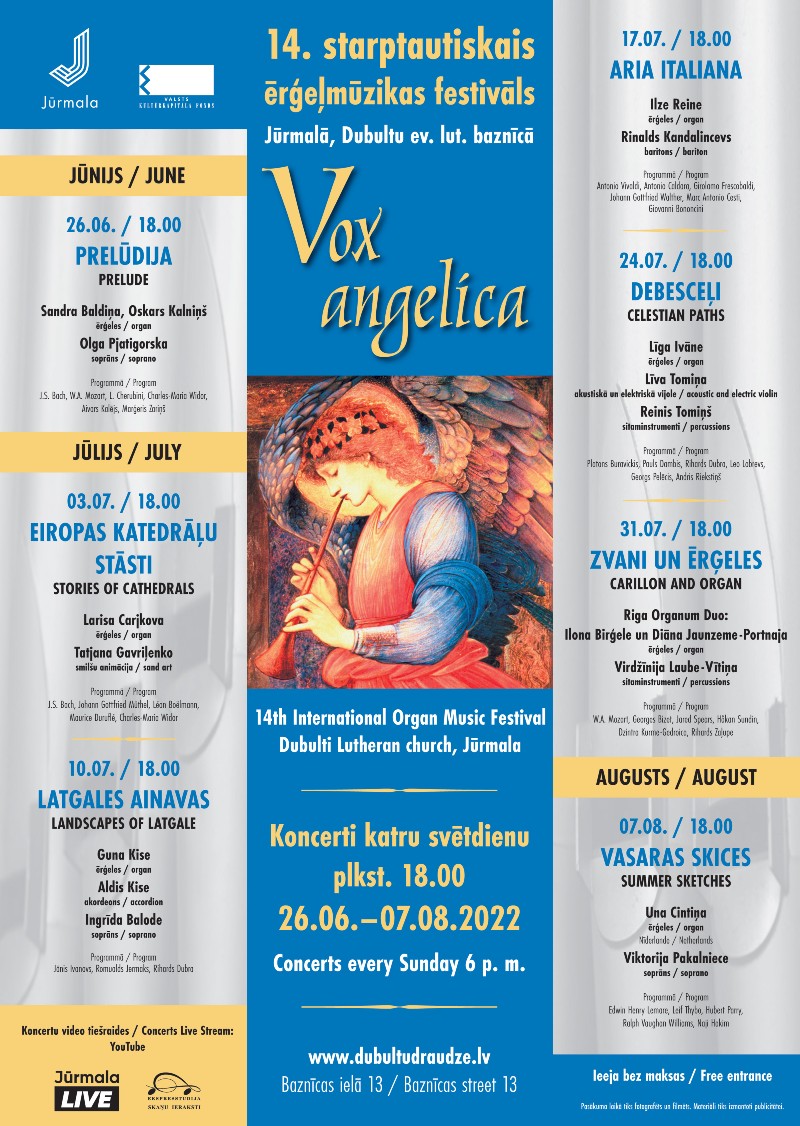 21.April - 3.July
Bulduri Exhibition House
Muižas iela 6, Bulduri 7.May 13:00 - 29.October
Ķemeri Resort Park
Tukuma iela 32, Ķemeri
Excursion starts at the Kemeri Water Tower and includes guided walk in Kemeri Resort Park. The excursion is in English. Prior registration by phone +371 29126551 or e-mail: owl95@inbox.lv.
Admission: 5 EUR adults, children up to 12 y.o. - free of charge. 30.April - 30.October
Ķemeri Water Tower
Tukuma iela 32, Ķemeri
Ķemeri Water Tower is open daily from April 30 till October 30 at 10 am - 6 pm. Entrance is free of charge, but the visit of the rooftop panoramic platform only upon prior reservation.
The renovated Water Tower offers two exhibitions abot the development of Ķemeri resort as well as the lifestories of the outstanding people. Breathtaking views can be admired from the two panoramic platforms (12 m and 42 m ). Ķemeri water Tower is a part of the historical industrial heritage of Latvia, which is not only a touristical sight but continues to function as a water supplier. In 2021 the Water Tower built in 1929 was opened after the subtle reconstruction. 1.January - 31.December
Tīklu ielā 1a