Ķemeri Resort Park – the Pride of Jūrmala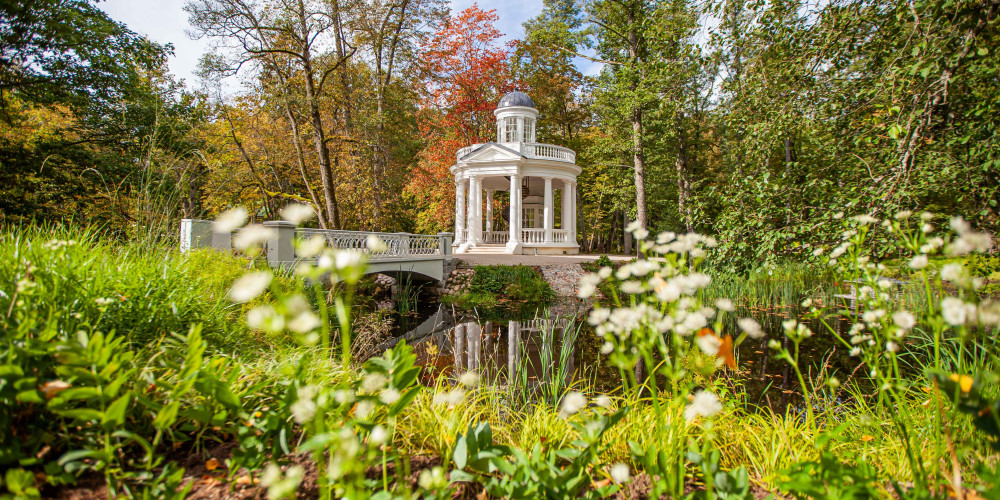 Today we have another reason to be proud of the Ķemeri Resort Park, which has been Jūrmala's greatest pride over the past years. The Ķemeri Historical Park has just been awarded second prize in the Management or Development of a Historical Park or Garden category of the European Garden Award international competition. The splendour of the Ķemeri Resort Park is comparable to the famous Rundāle Palace Garden, and visitors come from all over the world to see it.
An outstanding landscape park in Ķemeri
We invite you to visit and explore the Ķemeri Park, enjoy its beautiful landscape and learn about the history of the park, stroll along the park paths and walking trails that wind among the magnificent greenery – rich rose and hydrangea plantations and woody plants.
The park takes visitors back more than 180 years, which is how long ago the landscape gardener K.H. Vāgners fulfilled his flight of fancy. The small architectural objects - the luxurious bridges of the park, the Little Lizard sulphur spring ('Ķirzaciņa'), the delicate lacy teahouse on the Islet of Love, which is now a café, merge with the park's vegetation to form a whole: the park benches and lanterns are like something from the olden days.
Ķemeri Water Tower
Ķemeri Water Tower is one of the most popular attractions in Jūrmala. The majestic giant can be seen from a long distance, rising above the surrounding forests. Those courageous enough to climb the 222 steps of the tower will be rewarded by a magnificent view of the territory of the neighbourhood of Ķemeri. Reservations are required to visit the upper platform of the tower.
How to get to Ķemeri and park tours
Ķemeri can be reached by train or private car. From Ķemeri Train Station, the park is just a 15-minute walk away. Starting this summer, Jūrmala guests can visit the Ķemeri Park as well as the Great Ķemeri Moor Hop on/Hop off on a tour bus that leaves daily from Majori. Cyclists can also easily reach the Ķemeri Park by taking the bicycle path from Jaunķemeri. We recommend visiting the park with a knowledgeable guide – weekend excursions. Altogether, a visit to Ķemeri Park can take up to 2.5 hours.