FIVB Beach Volleyball World Tour Jurmala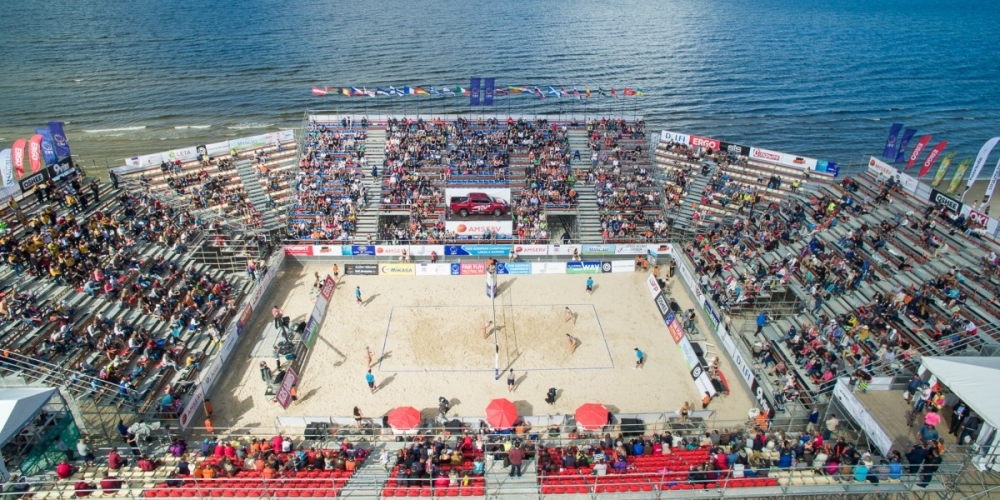 The largest beach volleyball tournament in Latvia so far is going to take place from 22 to 25 August, in Jūrmala beach sands in Majori. In the upcoming World Cup stage, Latvian beach volleyball fans will have a chance to watch beach volleyball stars not only from Europe, but also from all around the world.
The tournament's participants include some of the strongest beach volleyball players from Brazil, USA, Canada, New Zealand, Japan and several European countries. Latvia will be represented by several two-player teams, including our leading duos – Aleksandrs Samoilovs and Jānis Šmēdiņš (ranked 16th), as well as Mārtiņš Pļaviņš and Edgars Točs (ranked 11th).
"It was in the sands of Jūrmala where I grew up as a volleyball player — I spent my first practices there. We have been touring around the world for 15 years, so those who travel, can fully appreciate the quality of our sand. For volleyball players, the sand we play in is the most important criterion we evaluate; only then comes everything else — tours, hotels, and the overall organization. Therefore, the key component for the Jūrmala World Cup is already in our possession. The joint efforts of Jūrmala city and Latvian Volleyball Federation have already proven that top-level competitions can be organized here. Two years ago, when the European Championship was also held in Jūrmala, all participants already witnessed this," one of the tournament's leading favourites, Aleksands Samoilovs, observes.
"Our last game in Jūrmala was 2 years ago, during the final of the European Championship. It is a very special feeling to be back in Jūrmala, and I truly hope we will show our best performance here, at home. I believe that the support and atmosphere created by the audience will help us and we will do everything to ensure that a Latvian team will continue competing until the very last day of the tournament," Jānis Šmēdiņš says.
The Jūrmala Tournament will last 4 days, from 22nd to 25th August. The cost of tickets for the tournament day start at 5.00 EUR, and the main tournament game tickets can be bought starting from 19.00 EUR. As the tournament approaches, the ticket prices will increase.
Tickets for the tournament can be purchased in bezrindas.lv, and there is a 20% discount on tournament tickets when buying with the Jūrmala resident's card.
Previously, Latvia has hosted high-level beach volleyball tournaments, including the European Volleyball Confederation (CEV) tournaments, as well as the final tournament of the European Championship in 2017. Jūrmala sands have brought success to Latvian volleyball players so far. The most successful in Jūrmala had been our leading male duo Jānis Šmēdiņš and Jūrmala citizen Aleksandrs Samoilovs, who both triumphed in the European Championship stage "Jūrmala Masters" in 2016 and won silver medals in the final game of the European Championship in 2017.
Photo: Vadims Morozovs