Jomas Street Festival on July 6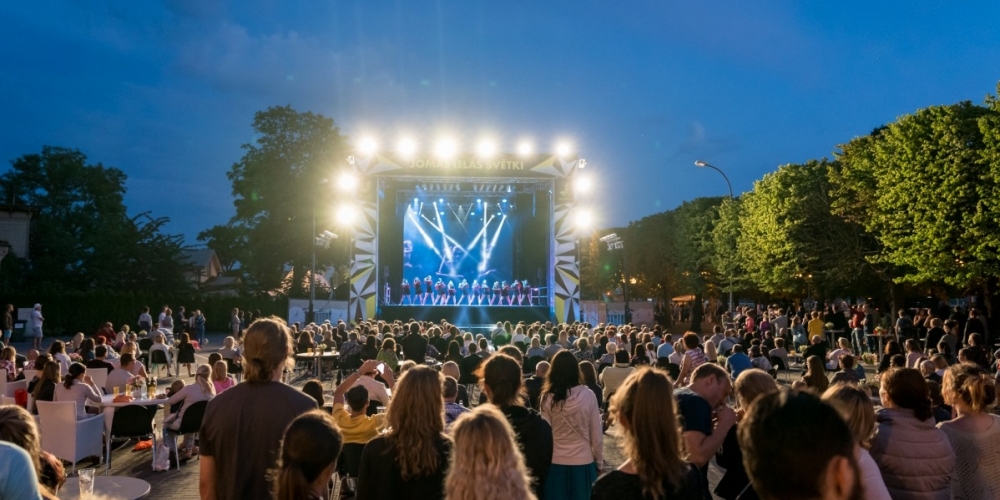 During the weekend, on July 6, the Jomas Street Festival will be held in Jūrmala for the twentieth time in a row. Guests are welcome to enjoy musical performances at several locations throughout the Jomas street and an exciting children's entertainment programme at Horna garden. For the delight of the festival guests, a folk-dance festival "Soļi smiltīs" (Steps in the Sand) will take place at the Majori parking area, with the biggest ever performance of the traditional Latvian dance "Gatves Deja" in Jūrmala. The evening will continue with an open-air dance ball in the tunes of the Raita Ašmaņa Big Band and soloists.
Musical performance locations on Jomas street
From 13:00 to 19:00 in front of the "Hotel Jūrmala Spa" on Jomas street, the festival's guests are welcome to enjoy the rhythms of Jūrmala by DJ Spinga and Kaspars Kurdeko and music bands "Kaija", "Svētdienas aprīlis", "3 Live Project" and "Perpetuum Ritmico". Visitors will also have the opportunity to enjoy the percussion instruments performance "Opercussion".
From 13:00 to 20:00, another concert will take place on Jomas street, next to the Viktorijas street junction; main performers will include "Jakob Noiman Festival Band", singer Laimis Rācenajs, the "The Swamp Shakers" and the brass band "Jūrmala".
Children's festival at Horna garden
Starting from 13:00, there will be various creative workshops for the younger visitors of the festival, where they can play games with the actors from Jūrmala Theatre and watch an exciting scientific play with Laboratorium.lv. Families with children can enjoy musical performances by "BG Dance Studio", the Sējāni family and Jēkabs Nīmanis. Additional attractions include the soap bubble show "Mārtiņa Burbuļi" (Martin's Bubbles) and a play by "Istabas teātris", called "Tētis" (Dad).
Biggest Latvian folk dance "Gatves Deja" performance in the Majori parking area
From 12:00 to 19:00, the folk-dance festival "Soļi smiltīs" will take place in the Majori parking lot. During this event, visitors will have the opportunity to see the performance of the biggest ever Latvian wedding dance "Gatves Deja" in Jūrmala, performed by the participants of the dance festival.
Open-air dance ball in the evening
In the evening, from 21:00 to 02:00 the festival visitors are welcome to attend the open-air dance ball where they can enjoy dancing and music by "Raita Ašmaņa Big Band" and several favourite Latvian singers: Aija Vītoliņa, Dināra Rudāne, Elza Rozentāle, Mārtiņš Ruskis, Edijs Šnipke, Žoržs Siksna, Nauris Puntulis and Ivars Jercums.
Entrance is free of charge.