Jūrmala Festival 2018 at Dzintari Concert Hall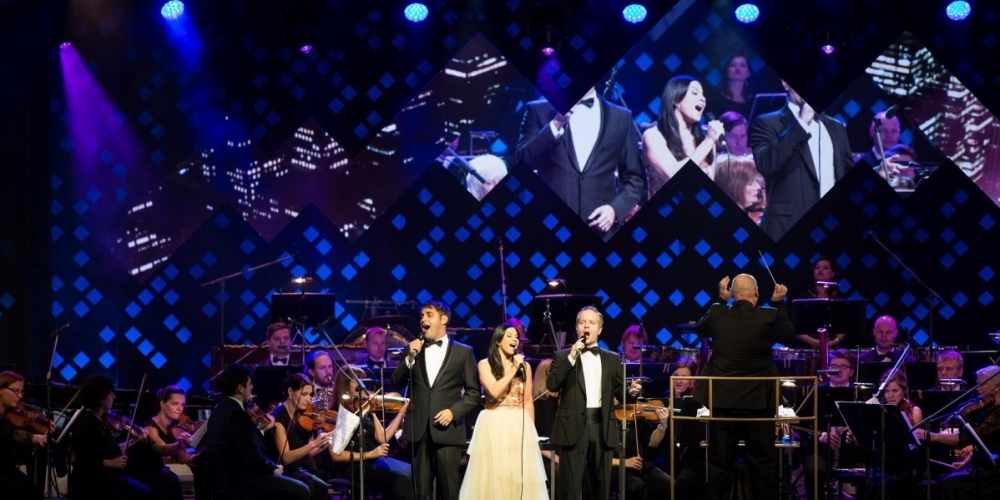 From 24 to 28 July, Jūrmala Festival will delight the audience with five beautiful concerts at Dzintari Concert Hall. Aleksandr Antonenko, the honoured artist of the festival together with locally and internationally renowned artists Kristīne Opolais, Ksenija Sidorova, Egils Siliņš, Alisa Zinovjeva, the Osokins, Vineta Sareika, Daniil Bulayev, conductor Ainārs Rubiķis, Jūrmala Festival Orchestra and other artists will take the audience on an unforgettable musical summer experience at Dzintari Concert Hall.
On 24 July, the Festival opening concert 'Born in Latvia' will bring us exquisite musicians born in Latvia who have received international recognition – opera singer Kristīne Opolais, accordionist Ksenija Sidorova, baritone Kalvis Kalniņš, guitarist Miks Akots and violinists Vineta Sareika and Daniil Bulayev. They will be joined on the great stage of Dzintari Concert Hall by the unique Latvian Centenary Youth Symphony Orchestra, comprised of the best young musicians of Latvia. Conductor of the concert – the internationally renowned artistic director Ainārs Rubiķis of the Berlin Comic Opera.
On 25 July, the restored historical Small Hall of Dzintari Concert Hall will host a solo concert by the public-beloved and internationally renowned accordionist Ksenija Sidorova. The so-called ´Princess of the Accordion´ has charmed the world with her skilfulness and personality, becoming the world ambassador of the instrument. Her performance transcends the genre and she is received on the most remarkable stages of the world with standing ovations. The virtuous accordionist will entertain the festival audience with pieces by Pyotr Londonov, Sergei Rachmaninoff, Astor Piazzolla, Alfred Schnittke, Moritz Moszkowski and other composers.
On 26 July, Jūrmala Festival invites all admirers of classical and piano music to a special concert "3 Osokin", where we will have the opportunity to observe three excellent pianists: a father, professor Sergey Osokin, and his sons, winners of numerous international competitions and exquisite interpreters of music – Andrey and Georgy Osokin. Reflecting on last summer's grand manifestation of pianism by the Osokins dynasty at Dzintari Concert Hall, the Osokins are preparing a new concert programme with piano masterpieces by Johann Sebastian Bach, Wolfgang Amadeus Mozart, Frédéric Chopin, Sergei Rachmaninoff, Maurice Ravel and Johann Strauss!
Taking into account the audience request, this year the Festival programme will again include the programme "The Best of Broadway Musicals" performed on the night of 27 July. Damian Humbley and Adrian Der Gregorian from London, together with Jūrmala Festival Orchestra and conductor Robert Purvis from Great Britain, will perform the most beautiful arias and duos from Leonard Bernstein, Richard Rodgers, Andrew Lloyd Webber, Cole Porter and from musicals by other composers, taking the audience on the most unforgettable summer night musical experience at Dzintari Concert Hall.
Jūrmala Festival will close on 28 July with a brilliant gala concert bringing on stage the world-famous opera singer and Jūrmala Festival honoured artist Aleksandr Antonenko (tenor), internationally renowned Latvian opera singer Alise Zinovjeva (soprano) and the most outstanding Latvian bass-baritone Egils Siliņš. Together with Jūrmala Festival Orchestra they will perform the most beautiful opera arias.
Tickets to Jūrmala Festival concerts are available at all Biļešu Paradīze box offices and on the internet at www.bilesuparadize.lv.