Jūrmala invites to the festival in Kauguri on 1st of September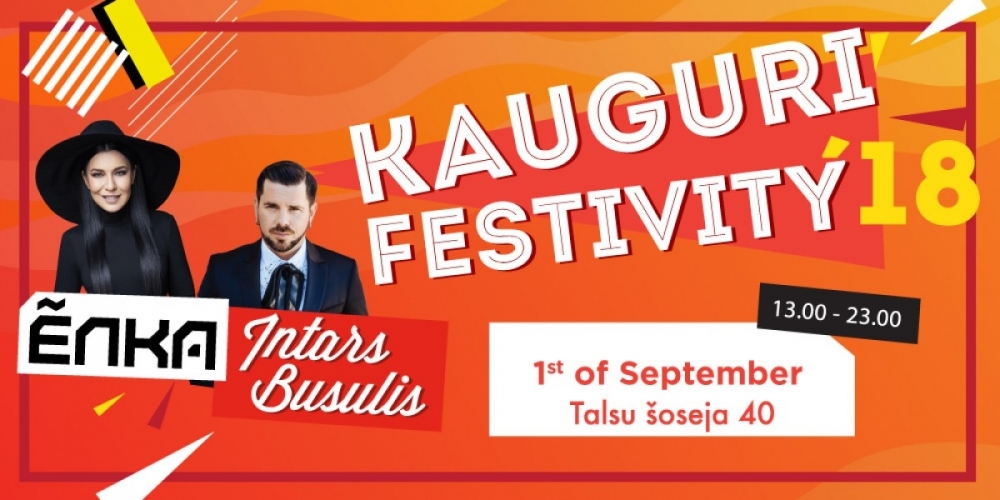 For the fourth year Jūrmala invites to celebrate the beginning of September in Kauguri - on 1st of September, the Kauguri festival will be celebrated in the resort town. On the evening of Kauguri celebration at the concert will perform charming Ukrainian singer Jolka (Ёлка). With their special concert program, on the Kauguri stage will join town's favourite singer Intars Busulis and "Abonementa orķestris". At the concert will also be the hip-hop association "Olas". With autumn touch in the event you can enjoy an extreme bike show, a humorous stand-up show as well as a variety of activities for children and juveniles. At the end of the celebration amazing fireworks. Entrance to all events will be free of charge.
This year's Kauguri festival will take place on Talsu šoseja 40, Kauguri, and it will be just 10 minute's walking distance from the Blue Flag beach. The celebration will start already at 13.00.
At evening concert - the group "Olas", Intars Busulis and "Abonementa orķestris", and Ukrainian singer Jolka
Before the evening concert, on the big stage at 18.30 the town`s citizen Žanis Pavlovskis and Arvis Reiks from the hip-hop association "Olas" will be pleasing visitors with their performance. Evening concert program at 20.00 as a tradition will reveal singer Intars Busulis and "Abonementa orķestris", featuring both the audience's favourite and the latest songs. For the first time in Kauguri will perform the charming Ukrainian singer Jolka (Ёлка), who will climb the stage at 21.30 with the music collective of 11 people. Pop rock singer Jolka stands out from crowd with her charisma, a wide range of vocals, and qualitative and diverse musical character. The musician has released five studio albums, and is one of the most popular music performers in Eurasia, regularly occupying top positions in popular music charts.
"Comedy Latvia" stand-up show, "Greentrials" Extreme bike show and graffiti demonstration
At 17.30 visitors of the Kauguri festival will be able to watch the association`s "Comedy Latvia" stand-up show. Juveniles and extreme sports enthusiasts will be entertained by the best bike show team in Baltic States "Greentrials", which brings together the strongest BMX, bike and moto trials athletes. At the extreme bike show will be performing BMX freestyle, BMX flatland and the velotrial representatives which will surprise visitors with two exciting shows at 14.00 and 16.00. Visitors as well will be able to try out the astronauts training device, swing in three-dimensional cradle and participate in other exciting attractions throughout all day.
Graffiti artist Holis (Viesturs Holenders) will create an environmental object - graffiti wall "I ♡ Kaugurus". Everyone will be able to participate in the creation of graffiti, in that way creating a unique work of art.
Puppet theatre performances, "Zili brīnumi" experiments and creative workshops
Families with children during the holiday will be delighted by the Liepāja traveling puppet theatre "Maska" with musical theatre performances "Burvju stabulīte" and "Kliņķīša piedzīvojumi". There will be a lots of big and small humorous beasts and birds in the performances, as well as well-known and not yet discovered fairytale characters. Entertainment and education centre "Zili brīnumi" will invite to participate in experiments with dry ice and liquid nitrogen as well as other exciting activities for both children and adults.
At celebration will perform also Jūrmala`s creative collectives with theatre, song and dance performances which can be viewed starting from 13.00 till 17.30