KUKŪ feast in the Art Station Dubulti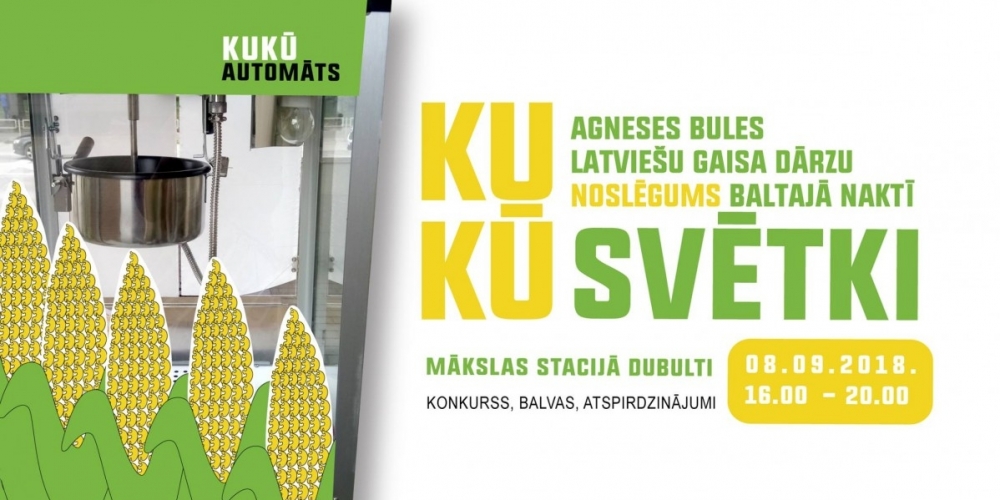 KUKŪ feast on Saturday, September 8th, from 4 to 8 pm is the fifth event of the "Latvian Hanging Gardens" & White Night at the Art Station Dubulti. In her final event of the "Latvian Hanging Gardens" artist Agnese Bule is making the special commentary on Anne Duk Hee Jordan's installations "Ziggy and the Starfish" and "Changing Sex in Ecology". Participants of the heppening will be invited to do form swap for the tree leaves. Snacks from the KUKŪ-popcorn-machine, "Latvian Dream" souvenir table.
About "Latvian Hanging Gardens"
The Art Station Dubulti invites you to a series of events by Agnese Bule "Latvian Hanging Gardens" ("Latviešu gaisa dārzi") in its open-air programme. Project is curated by Inga Šteimane.
Agnese Bule has created a contemporary myth of the Latvian Dream in the end of 90ies. In twenty years this mythology has become a creative brand of the artist and has been represented a lot both in exhibitions and flea markets. What is the Latvian Dream? It is designer images or signs based on linguistic double takes, common sayings and set notions: Latvian 'blows ducks' (i.e. lies), Amber Latvian, Sugar Latvian, Latvian 'vanishes into the trees' (i.e. disappears), Latvian 'pulls the blanket' (i.e. is serving his own interests) and others. How many Latvians and their dreams are there? The number is staggering. Latvian dreams are recreated in myriad materials, surprising techniques and contexts. Each new version is born either from weather conditions, life events or important dates in the calendar but mostly (in terms of form) by dipping into traditional culture. Agnese Bule's versions of the Latvian Dream are as endless as the variations of folklore.
The series of events "Latvian Hanging Gardens" at the Art Station Dubulti is a new version of the Latvian Dream. It is expressed as a conversation about the RIBOCA1 special exhibition "Sensorium: A Laboratory for the Deceleration of the Body and for a New Politics of the Senses". With the exhibition curated by Solvej Ovesen, which focused on human faculties of smell, hearing, touching and taste, Bule has developed five happening and conversation tours at the Art Station Dubulti. Each happening and conversation takes place in the spirit of the Latvian Dream with its characteristic elements: special set design, narrating of new myths or fairy tales, involving the public and surprise prizes. Inga Šteimane, the curator of the project, characterizes the "Latvian Hanging Gardens" as a conceptually stylized provincial commentary. She points out that the contexts for the Gardens are to be found both in the "Sensorium" exhibition and other topicalities, including the brilliant image of the introvert Latvian created by the Latvian Literature export platform and the pseudo-patriotic wounded feeling constructed by the RIBOCA1 critics.

8 September at 16.00–20.00 – the final tour of Agnese Bule's "Latvian Hanging Gardens" within the framework of the White Night. The Ku-kū Feast.
Free entrance. https://www.facebook.com/artstationdubulti/