Music festival "Summertime – Inese Galante & Friends"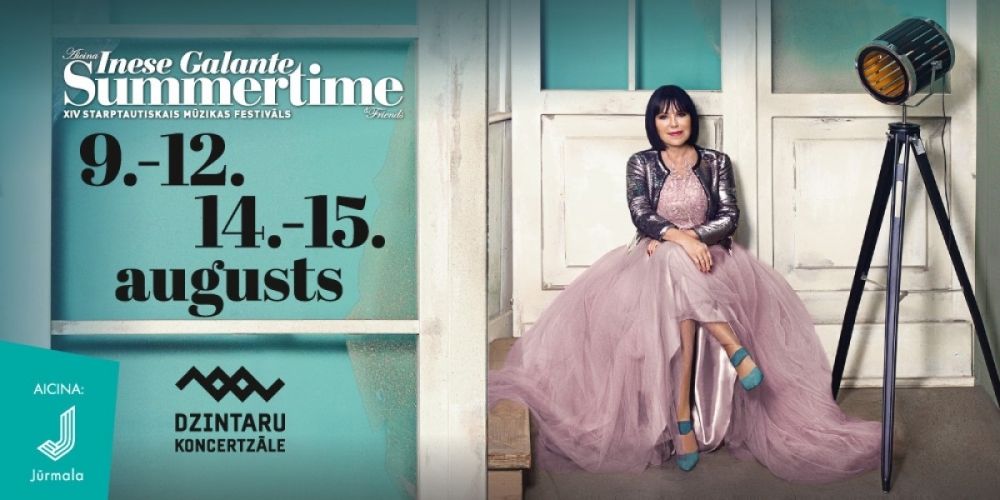 14th international music festival "Summertime – Inese Galante & Friends" from August 9 to 12 and 14 to 15, traditionally will become the culmination of this summer's concert season in Jurmala. This year, the festival's programme will pleasantly surprise all of its constant guests with new performances and interesting interpretations of well-known compositions, thus certainly conquering a new audience.
Festival's motto – "classics, jazz and Balkan rock'n'roll" reveals the main aspects of this year's summer festival, where the hits of different genres and times will be reborn in a new and unexpected performance. Festival's programme will be opened by Frank Sinatra's songs, however on the second day, legendary rock hits from repertoire of such bands as Nirvana, Queen, Led Zeppelin and others will be performed by the genius pianist – Daniel Kramer and jazz quartet of A. Rumyantsev. Admirers of the classical music will be delighted by a special concert in the small concert hall of Dzintari, arranged by Inese Galante, meanwhile fans of the fiery Balkan music will be able to appraise a performance of charismatic and world-wide known musician – Goran Bregovic. Traditionally, the grand closing concert on one stage will gather Latvian and foreign stars, as well as new talents. Two more concerts, on August 14 and 15, will be organized for the festival's closing part. On August 14 famous Italian singer Giovanni Costello in his unique manner will perform well-known Italian hits and ballades – compositions from Caruso to Celentano repertoire. On August 15 the 14th international music festival "Summertime – Inese Galante & Friends" will conclude with the grand closing concert of the outstanding musical trio – Trio Paris Royale and its soloist, violinist–wunderkind from Germany – Baptiste Pawlik. In the programme of the concert – diversity of genres: from French café, gypsy jazz, tango from the movie "Scent of a Woman" to hits from repertoire of such legends as Michael Jackson and rock band Coldplay.