Night family expedition "Don't tell stories!"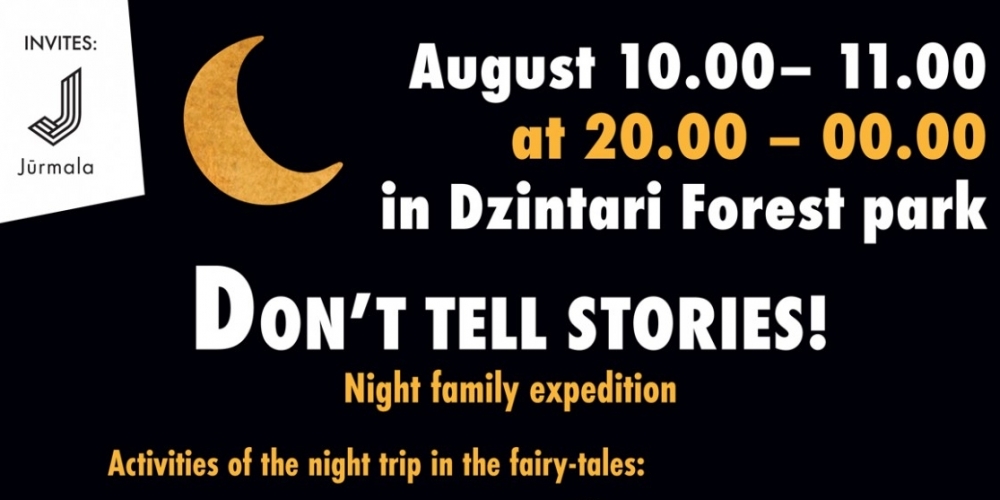 August 10 and 11 in Jurmala, in Dzintari Forest park at 20:00 – 00:00.
Activities of the night trip in the fairy-tales:
• going in the Rabbit sauna
• tasting cookies at the Dwarf fair
• dropping in the Dream bear lair
• learning the secrets of the Black
• turning into a Centipede
• participating in the Witch hollow
• going on a fairy trip of the shadows
• playing the drums on a Thunder Hill
• see what may be if Latvia had its space shuttle.
Activities in cooperation with the Latvian artists: Ieva Maurīte, Agnese Bule, Anna Vanaga, Mārtiņš Dāboliņš, Ivars Mailītis.
On August 10 at 20:00–00:00 Lullabies recording studio.
On August 11 at 22:30 – Open-air children disco.
Music by: children ensemble "Dzeguzīte", Adrians Kukuvass, Adrija Silva Kukuvasa, Roberts Gobziņš, Miks Dukurs, Juris Kaukulis, Maija Aukšmuksta un Adele
Don't forget a pocket flashlight for finding your way to the fairytale in the darkness.
Free entrance.