Otherwhere in Jūrmala In year 1913 the Lielupe railway station building was built with a purpose of servicing Buļļi manor crofters, fishermen and holidaymakers, as well for improvement and development of new summerhouses. Up to the year 1932 it carried a name "Buļļi", as well as the neighbouring area. This is the one of the oldest Jūrmala wooden railway station buildings, that has been ...
More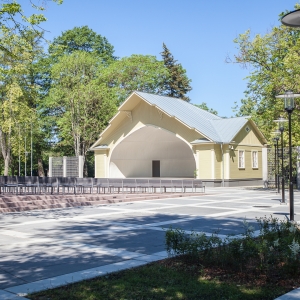 Open Air Stage is built in 1930 in the historical part of Melluzi, whereby already in the 19th century various concerts where held. Melluzi Open Air Stage is one the last two acoustical wooden shells in the Baltic region that has remained and is still functioning since the 20th century. Free entertainment for children in the park takes place throughout the summer, every Sunday ...
More