Concept - The ARTeries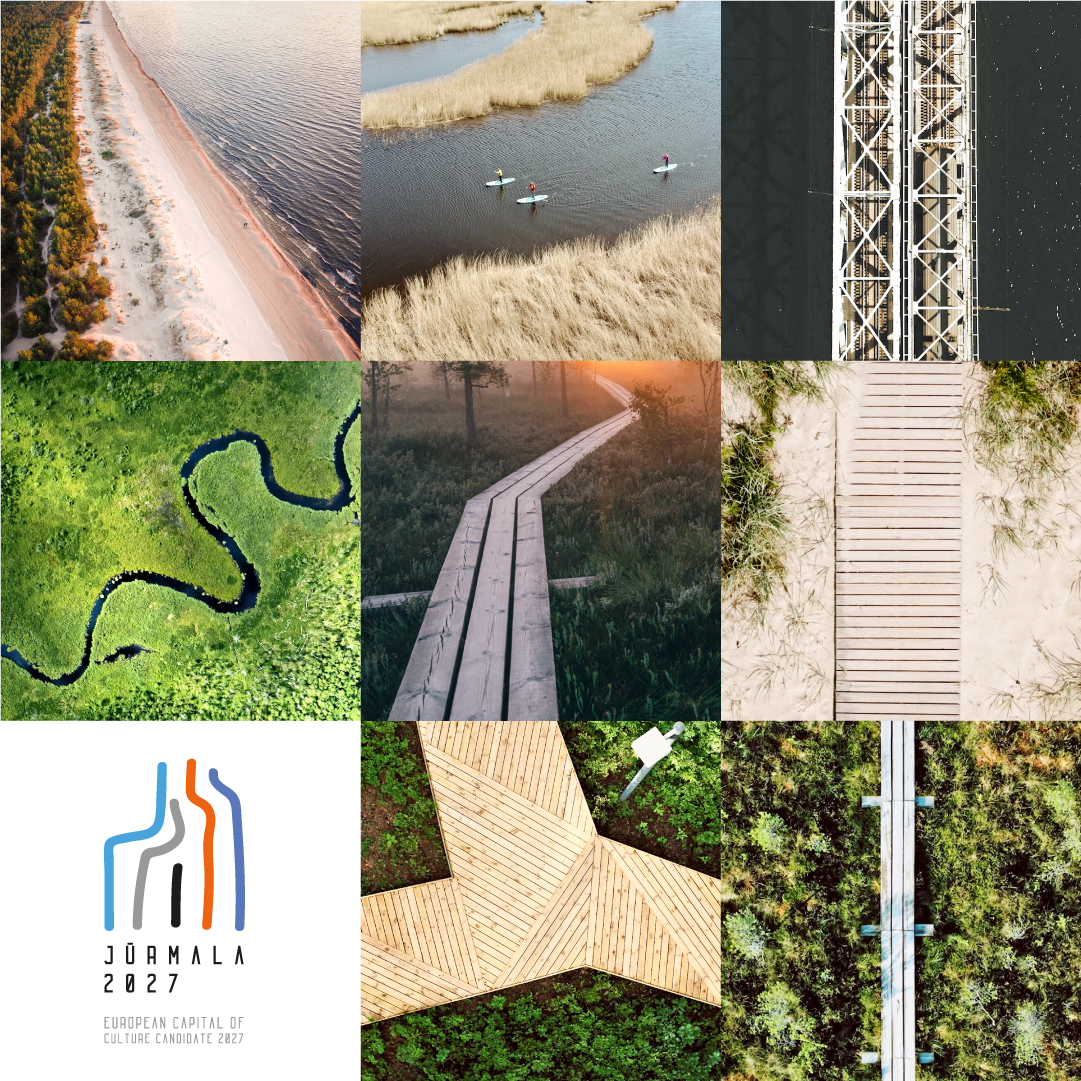 Jūrmala is located very centrally in Latvia and stretches along the coast in a more than 20km long life ARTery. Our unique layout gives us advantages that other cities don't have. Five natural ARTeries pass through the city: the Lielupe River, the railway, the motorway, a cycle path and the coast. These ARTeries can be practical seeing as they connect Jūrmala with Talsi, Tukums and counties further away. On a larger scale, they stretch outward connecting Latvia with Europe, and Europe with the world. The ARTeries can also be more conceptual in the way they connect us to our past, to culture, art and nature, and the way they ensure communication and connect diverse communities.
Life along the ARTeries is constantly coursing. The ARTeries give us our identity and connect us to our past. They provide us with oxygen and fresh influences from the outside world. Their unique pulsation is responsible for the rhythm of the city's cultural life, and their pace influences how we work, every new idea and how the city grows and progresses.
If we see culture as our city's invigorating lifeblood, then the ARTeries that radiate outwards, that weave through every part of our city, provide us with the structure around which to base our ECoC 2027 programme.
Strands/ Themes
Health Pulse – a response to the challenge of physical and mental health.
Inactivity affects both physical and mental health, something that has become increasingly apparent during the Covid-19 pandemic. What active lifestyle habits can do for physical health, art can do for mental health and adding nature into the mix creates a winning formula. Organising high-quality cultural events in nature will create a space for people to experience serenity within and find harmony between themselves and their surroundings. Choosing unconventional venues will open people's minds and help them see the wealth of their inner resources. We want cultural life in Jūrmala to develop in a direction where it is increasingly accessible, awe-inspiring and environmentally friendly.
Co-creation Pulse – a response to the challenge of local and international cooperation.
Jūrmala is a geographically fragmented city that together with its partner counties covers a large area of the Baltic Sea coast. Jūrmala is also a multicultural city. People from different ethnic backgrounds have not only found a home here, but have found a variety of ways in which to participate in the city's life. The foundation for cooperation is to involve as many residents as possible on a local, neighbourhood level, and from there also on a regional level. To cooperate we need to reach out and encourage people to co-create. We need to reach out and encourage people to be creative. Co-creation for us can mean bringing culture, science and the tech field together to see what new interdisciplinary objects and events can emerge where they intersect.
Environmental Pulse – a response to the challenge of sustainable development.
We are proud of our resort culture and history, but in order for this part of our identity to have a sustainable future, we have to respect our natural resources. The four beautiful seasons that are characteristic of Northern Europe give Jūrmala a distinct natural rhythm. Each season brings different cultural opportunities, but inviting the broader public out into nature carries with it a serious responsibility to protect and care for our natural resources. Art is a language through which we will address many climate-related issues including conserving biodiversity, promoting sustainable mobility, reducing household waste, and using our natural resources with care. Cultural experiences will help shape sustainable habits in a thoughtful and thought-provoking way.