Time for summer!

Jūrmala is hosting the first kite flying stroll in Latvia
An important event in Jūrmala's cultural life – the Jūrmala Resort festival – is back this year with an exciting kite flying stroll on June 5 and 6! Locals and visitors rejoice, welcoming the start of the summer and the beach season.
"Kite flying stroll" in Jūrmala
Join us as we celebrate the return of summer on June 5 and 6! Build and fly colorful kites, participate in open-air activities in Mellužu park, drop by the farmers' market outside the Kauguri Community Center or the design market on the corner of Omnibusa and Jomas streets. Check out the full list of cultural activities here.
Kite flying festivals are held all over the world every year where people gather to show off their various kite designs, some of which have been tens and even hundreds of meters long! These festivals have inspired us to organize our "Kite flying stroll". We hope to increase positive emotions and give people the freedom to get creative and imagine what it would be like if Jūrmala began holding a kite flying beach festival of its own.
Launch a kite of your own!
Join our kite flying stroll – everyone is welcome! Purchase a ready-made kite or download the schematics for one, bring some friends or family and build and launch a flying kite in the air!
We've also come up with an exciting treasure hunt activity, and a reward for the first 200 people that win the challenge – a beautiful, colorful flying kite!
Kite flying history
It is believed that the first kites were invented by Chinese philosophers around the 5th century BC. Historical sources say that kites were used to measure distance, wind velocity, for signaling, communication during military operations, and even to lift people.
Nowadays, kite flying has become a popular pastime activity – people catch waves and kiteboard in the sea, as well as build gorgeous kites and hold festivals on large beaches and deserts around the world. One of the largest kite flying festivals in Europe is held on the Danish island of Fanø.
Time for summer!
Let's celebrate the arrival of summer by being happy, responsible, and healthy, observing the epidemiological safety measures.
Join us on June 5 and 6 for some sunshine and kite flying! Let's give the sky some color on our "Kite flying stroll" in Jūrmala.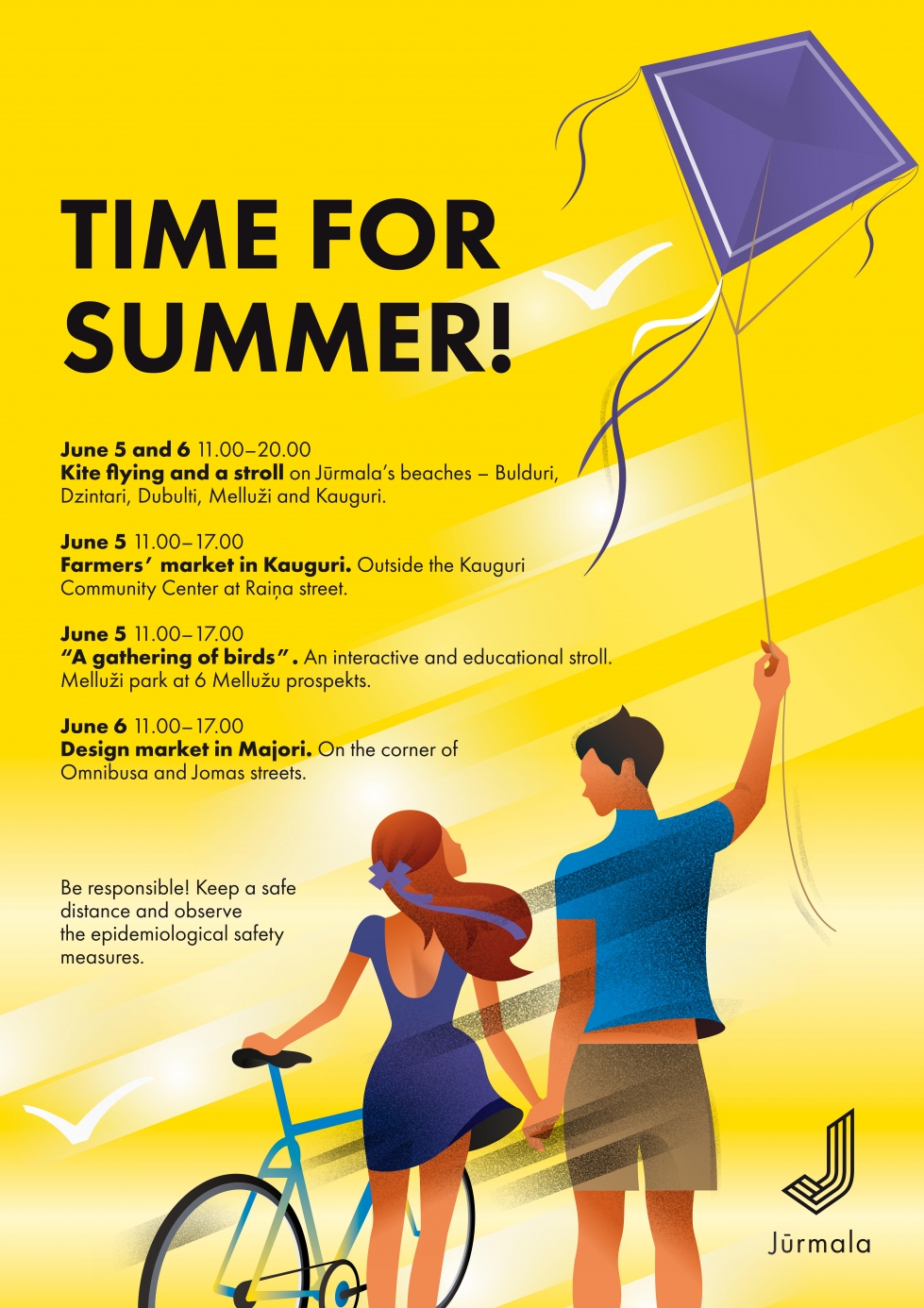 Check our website for updates – video tutorials and other information on the "Kite flying stroll" event.