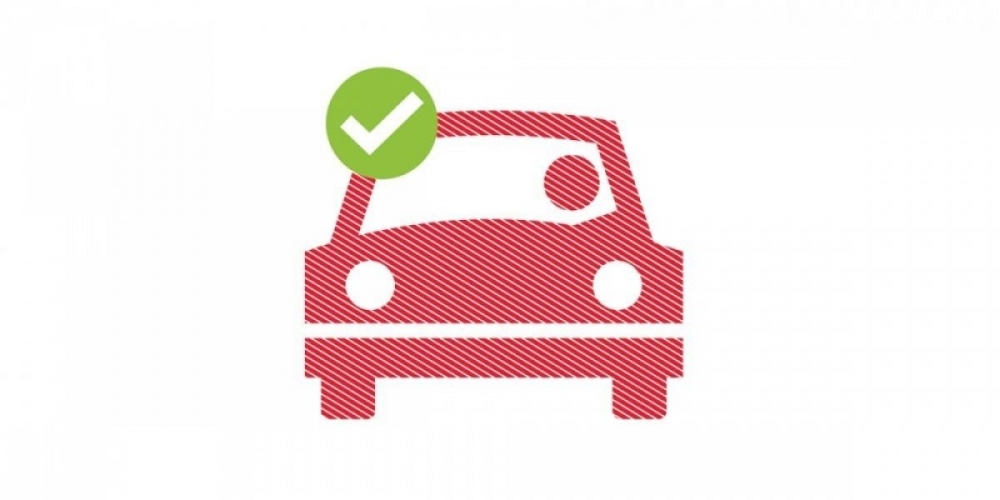 Starting from 1 April 2020, for vehicles entering Jūrmala, the EUR 2 entry fee will be resumed. The municipality kindly asks drivers not to overcrowd the pass purchase points in Priedaine and Vaivari, but to purchase passes electronically at the www.visitjurmala.lv website or through the "Mobilly", "Citadele" and "Riga Card" applications. You can also pay the entrance fee at the pass purchase machines in the four locations in the city: at the supermarket "Rimi" in Lielupe, at the Dzintari Concert Hall, at the Majori parking lot or at the Dubulti station.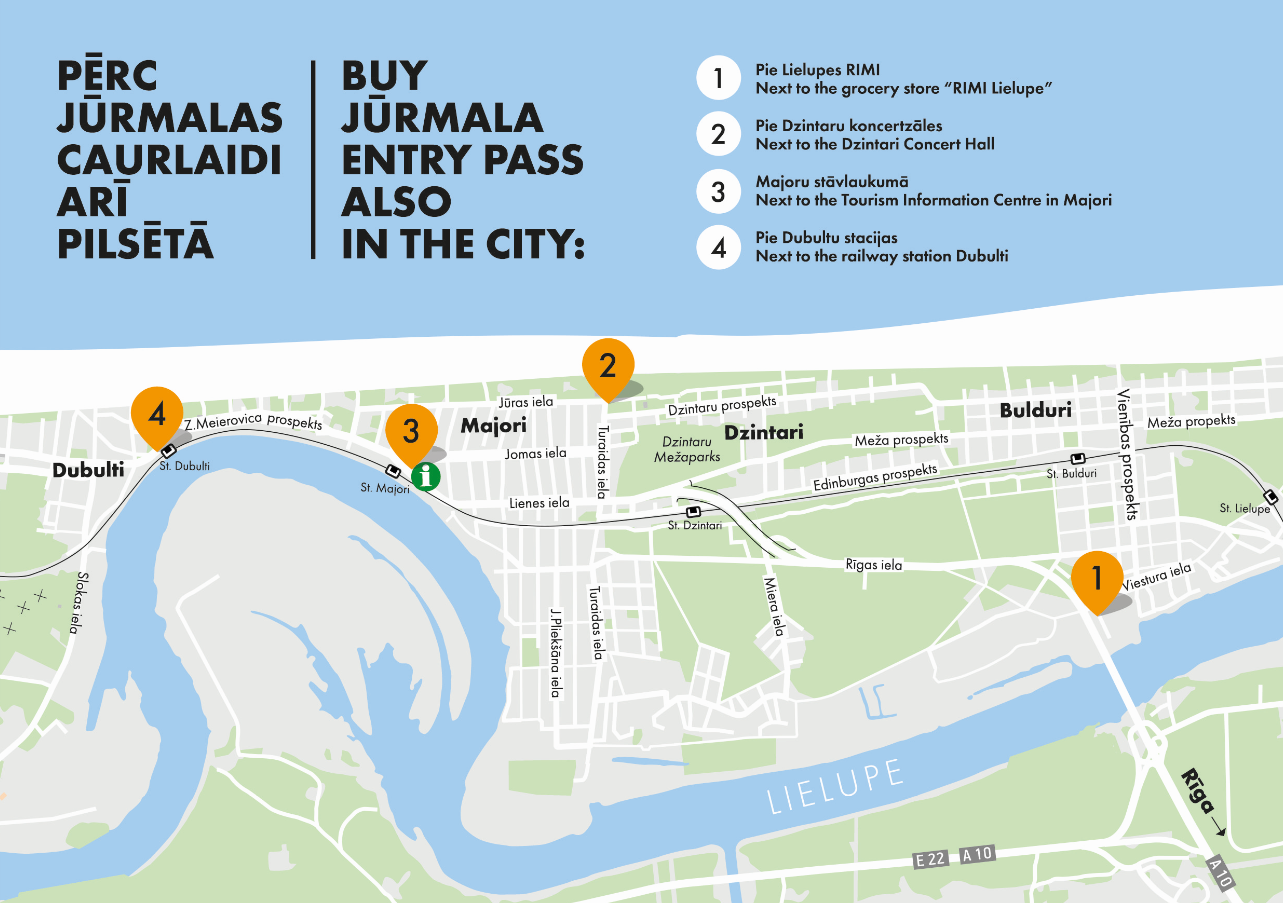 It is still possible to pay for the pass after entering the city, but it must be purchased on the date when the vehicle entered Jūrmala, until 23:59 or before. A one day pass will grant an unlimited number of times of access to the special zones791.05 KB on the date when the pass was purchased.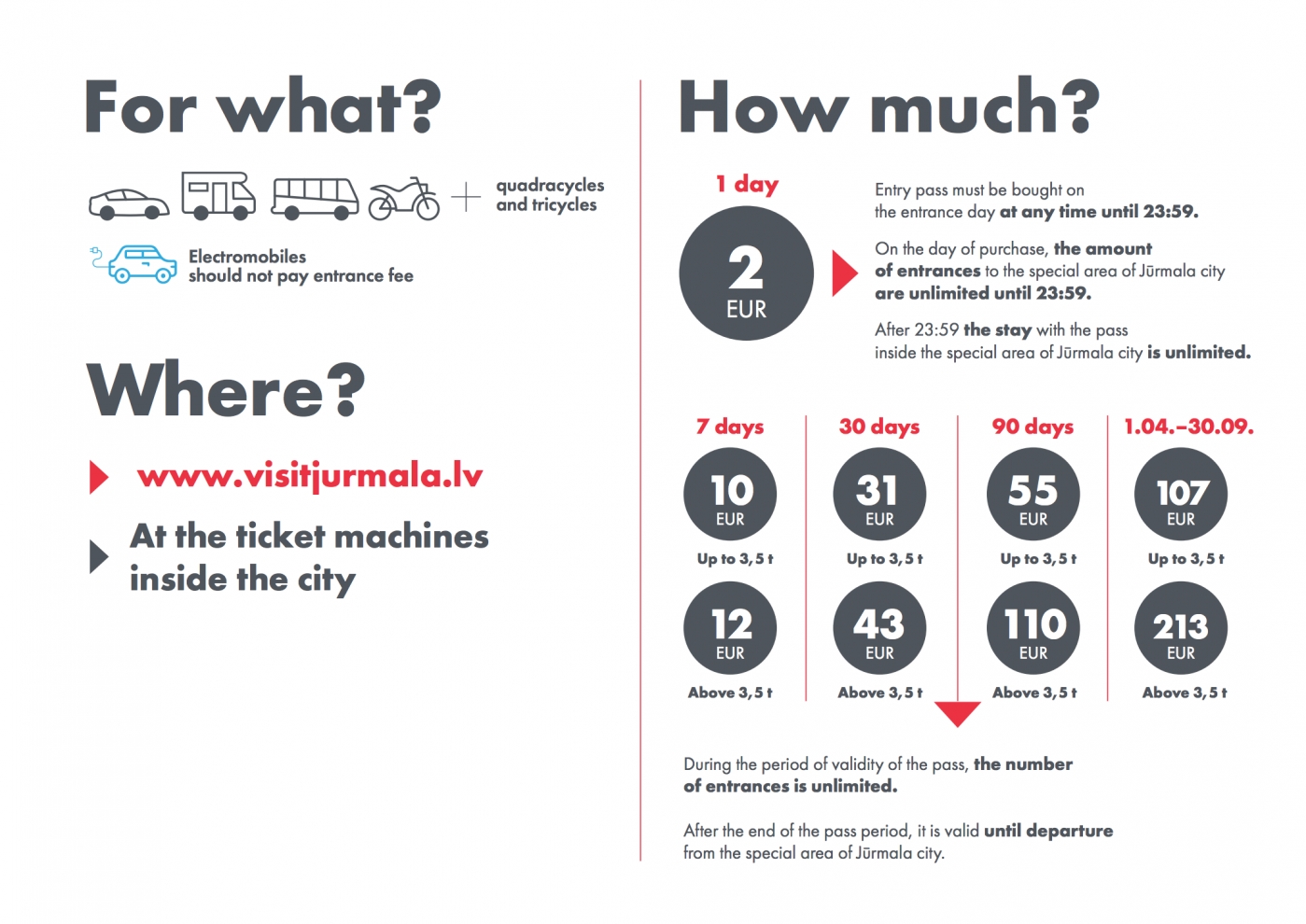 It is important to remember that, when buying a pass, you must specify the exact registration number of your vehicle. The pass applies only to the specific vehicle, the registration number of which was given when buying the pass. Longer-term passes are also available: for 7, 30, 90 days or for the entire season. A seven-day pass for vehicles with a full mass of up to 3.5 tons costs 10 euros, a 30 –day pass costs 31 euros, a 90-day pass costs 55 euros, and a pass for the entire period – 107 euros. For vehicles with a full mass above 3.5 tons, the cost of a pass will be 12, 43, 110 and 213 euros, respectively. You can check the validity of your pass at the www.jurmala.lv portal or www.epakalpojumi.jurmala.lv.
Parking spaces in the Jūrmala city territory, in places where vehicle parking is allowed, are free of charge, except for private parking spaces.
The pass purchase control system is fully automated. Video technology devices record the registration numbers of the entering vehicles, and they are later checked in the database for whether a pass was purchased for that vehicle until 23:59 of the day of entering Jūrmala. The fine for not complying with the pass regime is 50 euros.
Further information about passes can be found on the Jūrmala city website: https://jurmala.lv/lv/sabiedriba/caurlaides/