Time for Summer in Jūrmala! Resort Festival to be Celebrated on May 25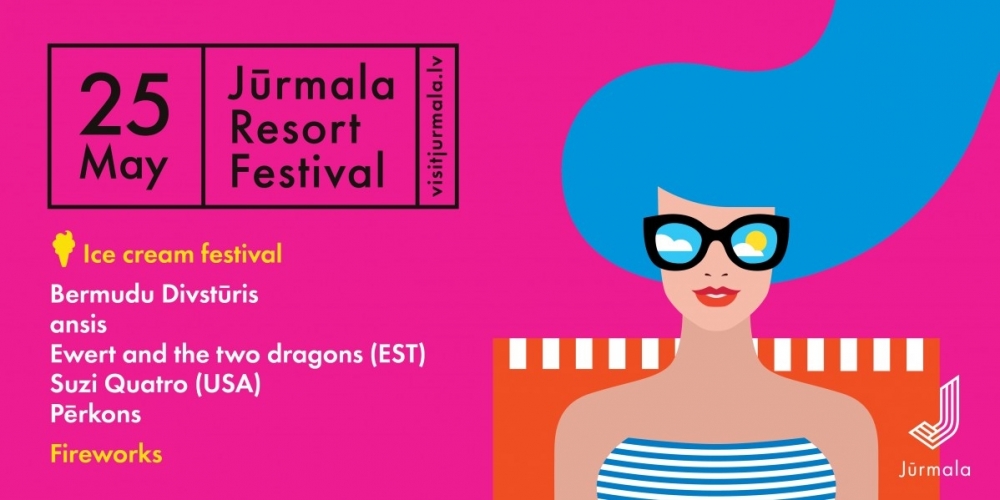 On May 25, the beginning of resort summer will be celebrated in Latvian summer capital Jūrmala. Jūrmala invites to experience the largest Ice-cream Festival in Latvia, to get inspired by the best street dancers "Ghetto Dance", to enjoy street food connoisseur meals, to rest on the beach, while listening to the concerts of "Ewert and The Two Dragons", "Bermudu divstūris", hip hop artist Ansis and other musicians and groups. The festival shall be concluded on the beach with the performances of legendary rock musician Suzi Quatro and Latvian rock group "Pērkons".
Evening Concert and Fireworks
The evening programme will be opened on Majori beach by the resident of Jūrmala, rapper and hip-hop artist Ansis. For the first time in Jūrmala, with the first concert of their concert tour, "Ewert and The Two Dragons", an Estonian indie rock and indie pop group will perform. The visitors of the Resort Festival will be entertained by an American rock musician Suzi Quatro. The singer will perform songs from her new album, as well as the favourite hits of the public. The celebration on the beach will be concluded by legendary Latvian rock group "Pērkons", with opera soloist Ieva Parša singing instead of Ieva Akuratere. In the conclusion of the evening – festive fireworks on Majori beach.

Ice-cream Festival – Concerts and "Sea" of Ice-cream on the Beach
Tiny and grown-up sweet tooths will be able to taste ice-creams, desserts and cocktails offered by "Ekselence", "Pols", "Tio" and "Rasēns" at very sweet prices, as well as try ice-creams made by Latvian home manufacturers. The visitors of the event will be able to taste the new "Jūrmala ice-cream", which will be exclusively on sale in Jūrmala only. "Bermudu divstūris", Ivo Grīsniņš Grīslis, Chris Noah, "Rahu The Fool" and "Svētdienas aprīlis" will take care of musical atmosphere during the Ice-cream Festival.
"Ghetto Dance Jūrmala Battle" – Street Dance Battle on the Beach
International street dance contest "Ghetto Dance Jūrmala Battle" will gather the most talented street dancers, who will compete in three nominations – hip hop, popping and all styles (hip hop, popping and house). The participants will be assessed by an international street dance jury – representatives from France (Oomoo), Russia (Baturo) and Latvia (Snickers). The best dancers and members of the jury will present their dance style in a special show.
Street Food Connoisseur Meals
Festival "Street food Jūrmala" will take place during the resort city festival, where best street food meals could be tasted in one place. The festival will be held at two sites – next to Dzintari Concert Hall and Majori car park. Popular Latvian deejays will also entertain the visitors of the festival in Majori: Roberts Gobziņš, Mixmaster AG and Toms Grēviņš.
Festive Parade – Colourful Costumes and Attractive Performances
One of the most beautiful traditions of the festival that opens the beginning of resort summer is the festive parade. It unites thousands of the residents of Jūrmala of all ages, companies of the city, organisations, as well as creative and sports teams that surprise with colourful costumes and attractive performances during the festive parade. This year, the most attractive team of parade participants will receive the challenge cup of Jūrmala city made by the sculptor Olga Šilova.
International Atmosphere – Area of Foreign Embassies
An area of foreign embassies will be established opposite Dzintari Concert Hall, where 12 foreign embassies and representative offices from Georgia, Hungary, Italy, Moldova, Uzbekistan, Belarus, Kazakhstan, United Arab Emirates, Estonia, Lithuania, "EU House" and French Institute in Latvia will be represented. The visitors of the festival will be able to participate in activities offered by them – contests, erudition games and product tasting.
Dances on the Beach, Kendama Workshops and Magic Tricks
Various activities are scheduled at Dzintari and Majori beach during the entire duration of the day. At Majori beach, on the large stage, an energetic dancer from Cuba Angel Zaldivar Ramirez will perform. The visitors will also be able to learn bio dance, rhythms of zumba and have a hearty laugh during the laugh yoga session. At the kendama workshop, youths and children will be able to upgrade their skills at kendama game.
Performances of acrobats of the circus studio, a magician will be held at Jomas street, an illusionist Valdemārs Weiss will entertain visitors by means of various tricks that involve manual dexterity, thought reading and even magic.
Families with children will be able to try playing mini golf, cornhole and other large games in Dzintari park, to use their creativity in the tattoo workshop, as well as to participate in the attractions of "Avārijas Brigāde".
Entry to all festive events of the city of Jūrmala is free of charge.