To enjoy delicious meal!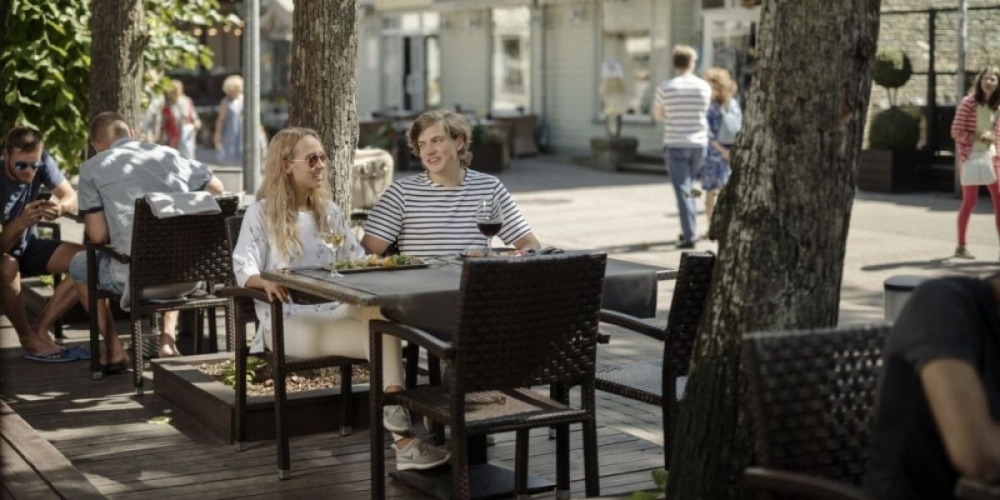 Jurmala's fresh air and hiking routes will stimulate the appetite, but the view from the windows of cafés and restaurants often make it hard to leave. Stylish branches, hearty lunches, confectionery sweets and romantic dinners make Jūrmala a gourmand's destination.
Family holiday
The cafés and restaurants of Jurmala have also thought about their youngest guests – you will find in them play-corners and children's menus. Restaurant "Laivas" has a big playroom with slides, swings and nannies, so parents can relax. In the restaurant "Neptūns" the children will be able to even see a rabbit family. And on every first Monday of the month, they hold themed children's mornings. Gallery KORSO in Majori invites you to visit Star Cinema or entertainment and education centre "Korso Brīnumi" (Korso Wonders), and even have lunch in the stylish restaurant ROOF BAR-B-Q & MUSIC.
The family café "Pie māmiņas" (At mum's place) (where even your dog will be welcomed) every weekend makes grilled meat and fish. Café "Pankūkas" (Pancakes) in Dubulti will make your children happy offering an extensive choice of different pancakes. Restaurant MaMa in Majori has even special menu for dogs and cats!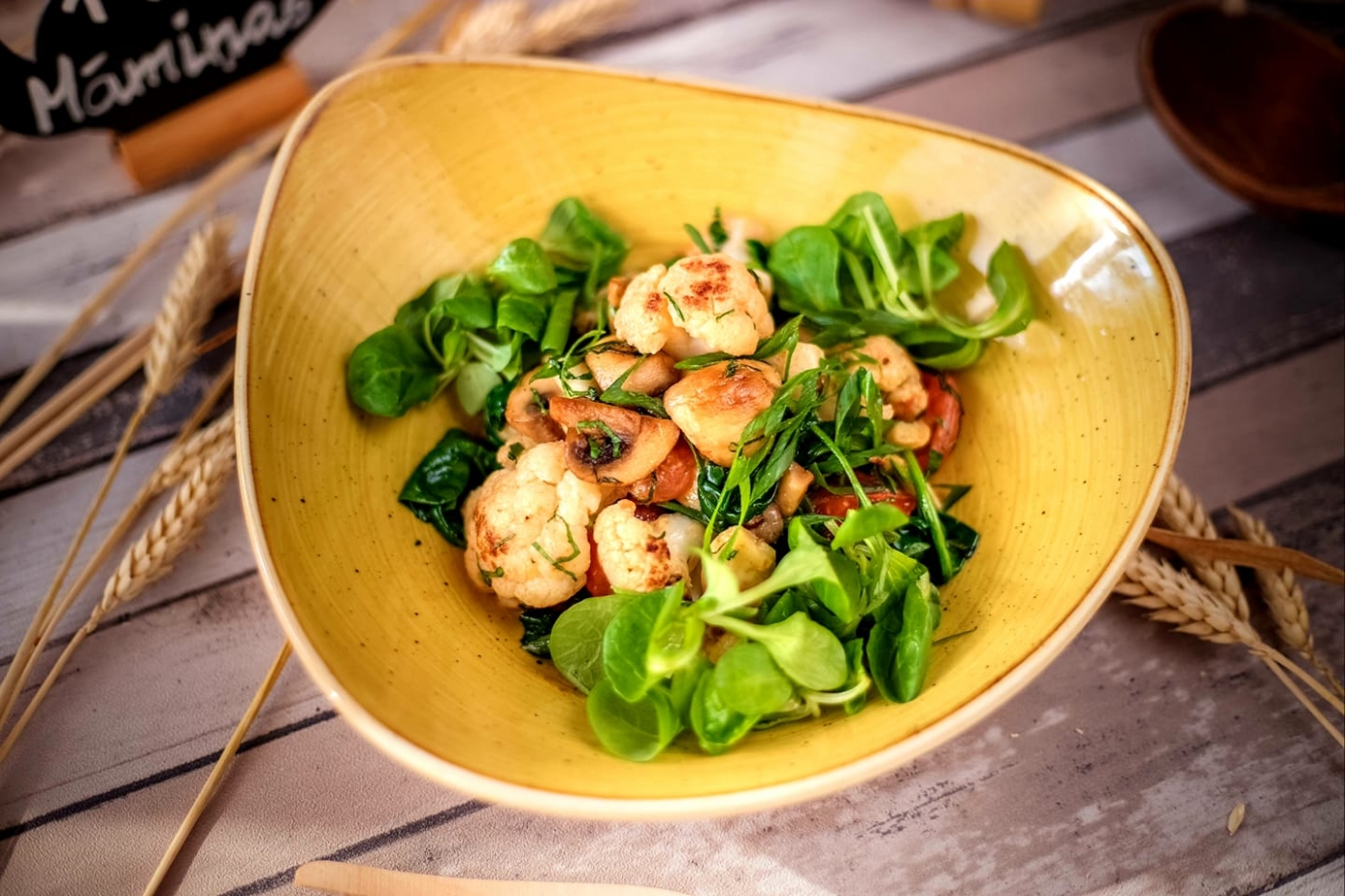 Romantic dinner
Hard to think of a more beautiful place for a summer dinner than in a beach café, where from your table you can enjoy a beautiful sunset at the horizon and watch waves rolling ashore almost touching your feet. There are several cafés on Jurmala beach: "Barona Pērle" in Bulduri, Simply Beach, Stories and X.O Beach Lounge & Club in Dzintari as well as Beach Bar & Grill in Majori.
Looking into each others' eyes, the view behind the window might lose its importance, although the added value of most of the restaurants is Jurmala really is the beautiful view. From the windows of the restaurant "Laivas" you can enjoy the dreamy Lielupe river water. The newest restaurant in Jurmala "Vinegrets" will please your eye with the view to the pines of Dzintari Forest park and the menu will specialize in seafood. The cosy and exquisite atmosphere in the restaurant Faces in Bulduri will make every dinner an unforgettable one.
Sometimes the best date is the simplest one. The warm summer evenings will let your imagination fly and the tender raspberry cake "Jūrmalas sirds"(The heart of Jurmala) in the confectionery "Bitīte" on Jomas Street can become a lovely surprise for your loved one.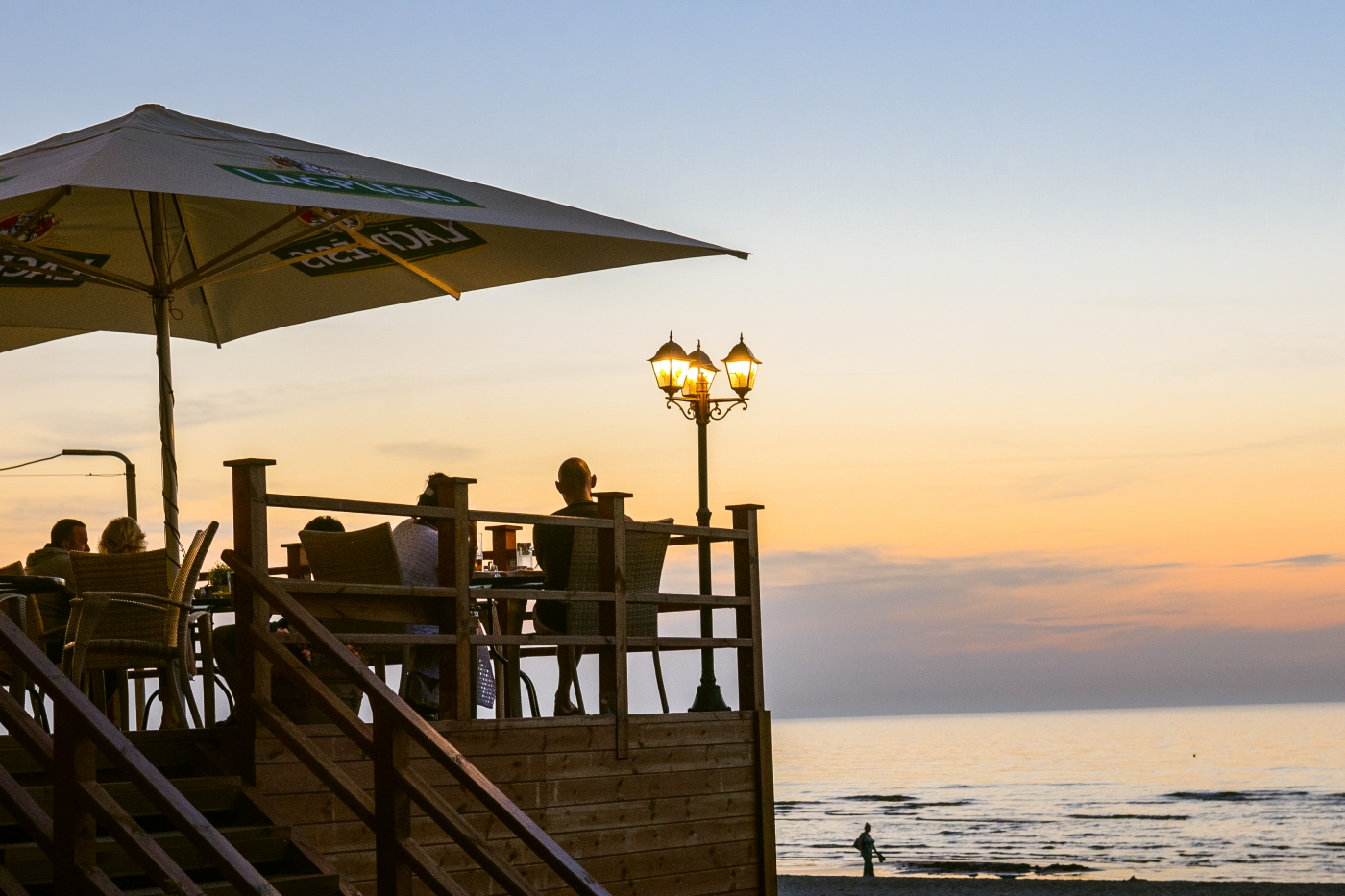 On a hiking route
For those, who want to do everything, Jurmala offers beautiful places for tasty and fast dining with take-away option. The High Street of Jurmala – Jomas Street – has many cafes to chose from, including burger shop Street Burger, pizzerias Red Bus and Cafe 53, confectionery De Gusto or "Kafija" – specialised coffee shop and café for an amazing espresso, cappuccino or tea. "Draugu Beķereja" is situated in Majori near the maintained river beach and playground city "Kuģis" (Boat), but in Melluži – Madam Brioš confectionery and café.