Overnight stay in Jūrmala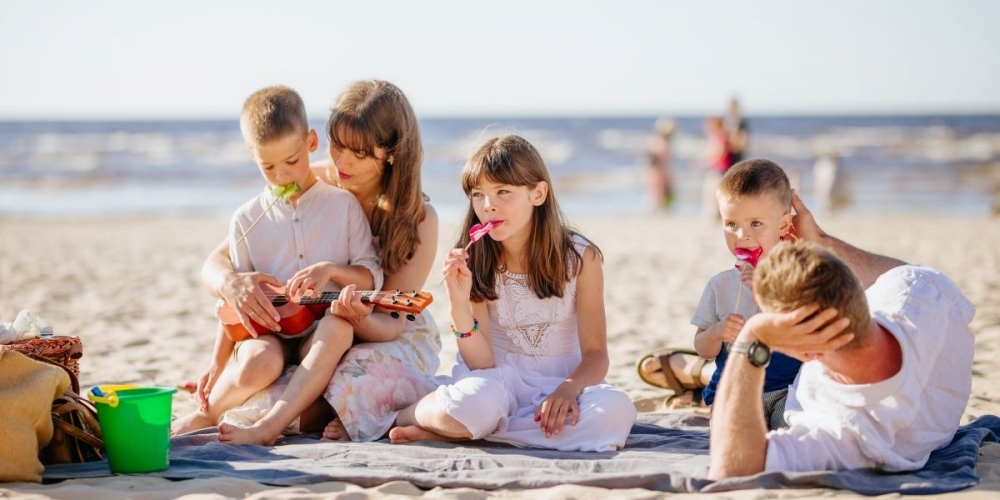 Summer is the season of vacations. And this year, thanks to the near-tropical weather in Latvia, a long vacation in Jūrmala may just be your best decision of this whole summer! The resort city offers epidemiologically safe options of accommodation in beautiful rooms and suites, as well as customised health and beauty treatments. So, go ahead and enjoy a holiday with your family or a romantic stay for two, enjoy the city's most delicious pizza in you hotel suite or head to the beach with a lovely picnic basket prepared especially for you by the hotel!
A Family Vacation
A number of Jūrmala's hotels have given a lot of thought on how parents and children can enjoy a lovely trip for one or more days. The Kurši Hotel in Dubulti have a special "Family Offer", which includes recreational activities in nature and accommodation in the spacious two-floor family apartment with a French-style balcony or the new two-room suite equipped with all amenities. The price also includes the tastiest pizza in Jūrmala and a relaxed breakfast. The offer "Family holiday at "Tarzāns"" also includes tickets to the exciting adventure park in the Dzintari Forest Park.
Lielupe by Semarah Hotels offers "A Vacation Oasis for Family" package, which includes a Family suite. The longer you stay, the better the price. The offer includes a relaxed breakfast and a visit of the Wellness centre (pool, sauna, hammam, children's pool, jacuzzi, contrast showers, gym are all available upon showing a valid Covid-19 vaccination certificate and a personal identity document. This does not apply to children under 12 years.) If the stay lasts at least three nights, the guests receive a surprise children's book as a gift; if the stay lasts at least five nights, the guests receive a free visit to the salt room for the whole family (with prior registration and upon showing a valid Covid-19 vaccination certificate and a personal identity document).
The one and unique five-star hotel in Jūrmala, Baltic Beach Hotel & SPA with the largest SPA centre in the Baltics also has a "Family Summer Vacation" offer. After enjoying a lovely breakfast buffet and a Prosecco to go, and while the children are playing in the open-air children's club accompanied by experienced animators, parents can fully appreciate that summer resort feel on comfortable lounge chairs, set on the white quartz sand in the exclusive Beach Club seaside zone. In the evening, guests can enjoy a lovely family dinner on one of the hotel's summer terraces (the hotel's restaurants serve children's meals free of charge if the child is accompanied by an adult), and after that take a walk along the warm summer beach or have a relaxing dip in heated sea water in the Sea Wellness complex. A separate seaside villa is also located on the resort hotel grounds; it is available for rent and perfect for a vacation among family or friends. The villa consists of three spacious bedrooms, a cosy living room, a fully equipped kitchen and dining room, two bathrooms, a sauna, and a terrace.
A Romantic Vacation for Two
If you're looking for a wellness trip, but do not wish to venture outside your hotel suite, the Kurshi Hotel SPA Home SPA kits for personal use are just the thing for you! You can choose out of two options: the "Lavender" kit contains bath salt, essential oils, and an aromatic lavender sleep pouch for more relaxing sleep, and the "Peppermint-lime" kit contains bath salt, essential oils, a peppermint-lime body scrub and Latvian peppermint tea. A breakfast in the hotel restaurant's terrace is also included in the price. On the same note, Hotel Jūrmala SPA in Majori, located on Jomas iela, offers a relaxing holiday in a luxury suite with a private sauna just for you! The price includes a delicious in-suite breakfast as well as a herbal tea with honey after sauna.
The warm and light summer evenings are perfect for a romantic outdoor dinner in the dunes, away from prying eyes. In Hotel Jūrmala SPA guests and other clients alike can order a take-away picnic basket with scrumptious snacks, salads, fruit, muffins and refreshing drinks. Lielupe by Semarah Hotels also offers various picnic baskets for watching the sunset or a midday meal, containing meat, cheese and fruit platters and sparkling drinks.